Why are Watch Boxes for Men So Useful?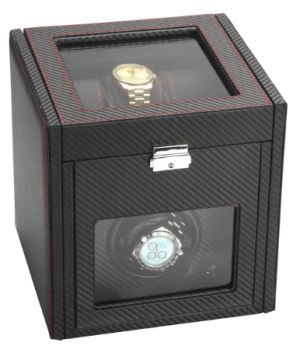 A watch box or watch case for men is a handy accessory used extensively to store their favorite watches. In other words, your costly watches require absolute protection from all environmental adversities such as moisture, dust, humidity as well as bugs, especially when they are not in use. Equally, keeping them in men's watch box helps you to keep them protected from potential scrapes, scratches, and other adverse conditions.
In general, watch boxes for men are made out of high-quality wood. They're enduring, stylish and ingenious when they're polished with a great finish. Nevertheless, the major problem that you can encounter with wooden boxes is that they are vulnerable to humidity, moisture, and temperature which are quite common issues of households.
Therefore, considering the atmosphere of your home, you can think about buying men's watch box made of high-class leather. As they can efficiently protect your treasured watches, with their great interior and classy designs, they simply look amazing and add value to your home decor.
Watch boxes are also available with cushions or lining. And, you're especially recommended to go for personalized watch box with lining, which will keep your watches from being damaged while they're in storage. A potential buyer can find varieties of boxes with the capacity to store many watches at a time, as well as with drawers, while box for storing a single watch is also available even though it's always the best choice to consider having a box with a higher capacity of storage. With this, you can add new pieces of watches that you buy or get them as gifts on different occasions.
Apart from storing watches, you can use your men's watch box to store jewelry items, cuff-links or rings, and other valuables. Contextually, nowadays, watch boxes also come with in-built watch winders for the extra convenience of watch lovers. By and large, the lid of watch boxes is found made of glass or crystal which is ideally great to display the collection of your great watches.
Tips To Choose a Men's Watch Box?
While buying a men's watch box, which points need to be considered by you?
Internal Construction
 Firm oval-shaped fleece covered pillow are considered as the best storage system for men's watch boxes. It is ideal to go for pillows with a thickness of 45 mm to 75 mm as they can be effectively house watches with smaller to bigger dials.
 Ensure to buy compartments measuring 50 mm width while having 10 mm dividers amid compartments provides sufficient rooms to accommodate your valuable watches securely.
 Compartments should have a depth of at least 45 mm from the floor to the top of the divider and gapping of 20-30 mm from the lid. For lining, it's ideal to use of superior class fleece or microfiber is the best choice.
Durability
Also consider shopping watch boxes that are adequately robust, well-built, and strapping, which can last for many years. Considering the importance of your watch box, rather than buying cheap quality items, spend a bit more and go for an enduring one. You can also choose men's watch box made of wood, leather or metal, which are most demanding in the market.
Go With Style
Watch boxes that are mostly displayed on the top of your dressers, which is why; the largest number of buyers prefer buying boxes with a glass top to impress their guests as they come over. You can find plenty of stylish watch boxes online while buying a classy one complementing to the interior of your home, wall color, and its ambiance of the room should be the best choice.
Budget
You can find boxes with affordable price tags online without having to compromise with the quality, style, and durability.
Alternative Uses
It is quite reasonable that in the long run, you may feel tired of storing further watches in the box. In that case, they can be brilliantly used to store varieties of jewelleries, pendants, cuff-links, arm bands, rings, or your wife's brooches and more.