Guide to Choosing the Best Gym Bags for Men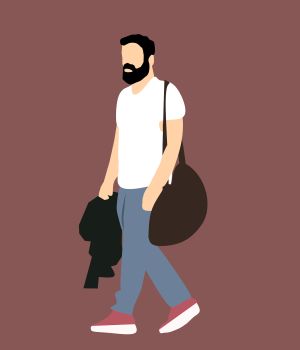 Let's get real for a minute here: a gym bag is no longer just an item you carry along with you at the gym; it's a fashion statement (even for men). Beyond that, it helps you stay organized while maintaining an efficient workout schedule for you. So how does one go about finding the right one for them? This is a tricky question, considering the many options out there. So many types, so many different materials, and oh so many compartments! The last thing you want is a gym bag that starts falling apart in a few months (or even worse, weeks), or a bag that opens up a wormhole, making fishing for your wallet or keys an impossible task.
Choose The Right Gym Bag: Factors To Consider
There are many factors to keep in mind while choosing the gym bags for men! Some of them are size, material, type, and compartments. But keep in mind that choosing a gym bag is a very subjective choice. Different people like different styles, have different needs, and carry out different workouts. Let's say, for instance, that you do yoga. In this case, you'll want a gym bag that has a convenient strap for your yoga mat. If you are into dead weights, you may need a compartment for your weightlifting gloves or a notebook for keeping score. Some people like bathing right after workouts, in which case you'll need a separate compartment to store your shower gear AND your sweaty gym clothes.
… I know what you're thinking: working out never seemed so complicated. But the good news is that once you consider all these factors before buying the ideal gym bag for men, you won't have to invest in another one for a long time. Make smart choices while buying it to spare you the time, money, and energy in the near future.
Type Of Gym Bags
Let's talk about personal preference for a minute here. There are various types of gym bags to choose from, and this choice should be a judgment call based on your personal preference.
• Duffle Gym Bags
This is quite a versatile option today that many men generally opt for because of various reasons. For starters, it has a lot of storage space, it's relatively waterproof and super comfortable to use. Gym duffle bags are also generally durable and are therefore ideal for people who travel a lot. This is one of the main reasons people prefer them: they last longer! However, if you are very anal about the organization, a gym duffel bag would not be your go-to because of its lack of compartmentalization.
• Backpack Gym Bags
An easy-to-carry and casual option, the backpack gym bag is known to give your shoulders some rest. If you travel to work post-workout on your bike or use public transportation, backpack gym bags are pretty convenient. Plus, most backpacks come with laptop sleeves now, so you don't have to worry about carrying your laptop in a separate bag.
• Drawstring Gym Bags
This might be the simplest of gym bags, but it is also considerably smaller than the rest. Everything must fit into one main pouch with no dedicated compartments. This keeps things super simple and is ideal for those who don't have much to carry to their workouts. Plus, you'll never have to think about zippers breaking (definitely a benefit in the long run)
• Gym Tote Bags
Talk about style.. The gym tote bag is the ideal fit for an organized man who requires many compartments. This is also a professional option for people who go to work directly from the gym- with various compartments to store your gym equipment, gym clothes, shoes, and hygiene products, you're all set!
Materials
Remember to keep it simply durable: the most popular materials people go looking for are nylon and polyester! Polyester prevents sweat from soaking through the fabric while offering a durable fabric. But if you want the same kind of durability with more breathable material, go for Nylon. Its lightweight property makes it ideal for casual use. Try steering clear of leather-related options because they are heavier, harder to maintain, and generally more expensive.
Ideal Compartments
Depending on the kind of workout you engage yourself in, you will need different compartments:
• Workout-related compartments: Dedicated shoe compartments, space to store your worn gym clothes, a yoga mat holder strap, etc.
• Post Workout-related compartments: For storing your accessories and personal care products.
• Work-related compartments: If you are traveling to work directly from the gym, then a laptop sleeve, a few smaller compartments for your keys, wallet, etc.